Page 2 of 2 •

1, 2

Turtleneck

Geronte





Posts

: 24271


Join date

: 2014-04-22


Location

: tswill.com



This picture is symbolic of where Trump is positioning the U.S. in world politics. Alone and isolated.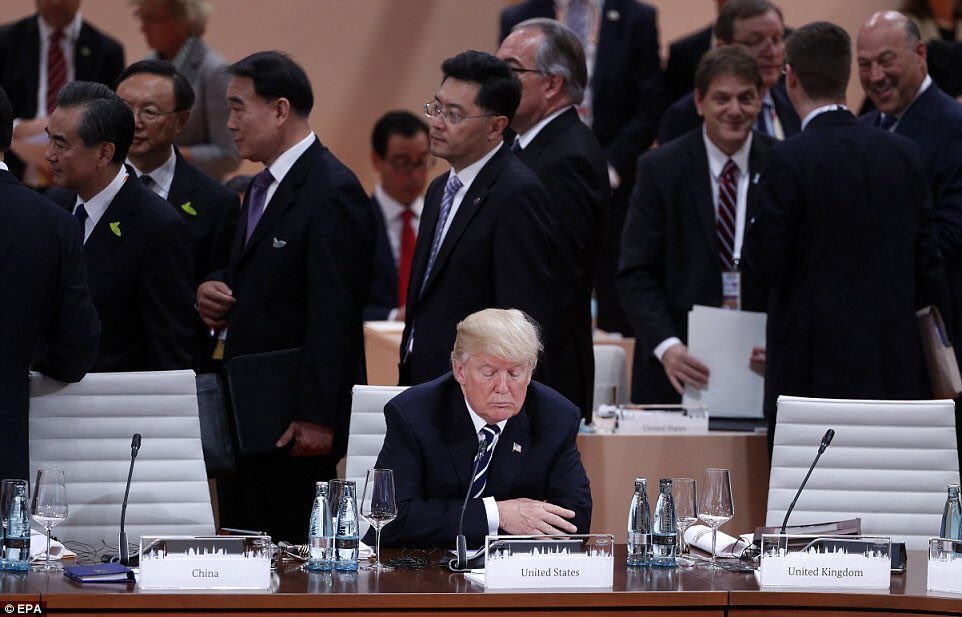 Turtleneck

Geronte





Posts

: 24271


Join date

: 2014-04-22


Location

: tswill.com




Turtleneck

Geronte





Posts

: 24271


Join date

: 2014-04-22


Location

: tswill.com



This sounds smart...
Top State cyber official to exit, leaving myriad questions
http://www.politico.com/tipsheets/morning-cybersecurity/2017/07/18/top-state-cyber-official-to-exit-leaving-myriad-questions-221386
But Secretary of State Rex Tillerson is considering closing the cyber office or merging it with another office and downgrading the cyber coordinator's rank, according to a source familiar with internal planning. "It's a step back from everything done over the last ten years," said the source, who added that Tillerson was also considering "limiting the number of people who work on cybersecurity" at State. "They basically gave [Painter] two weeks notice," the source told MC. "It's clear they're thinking about reorganizing it. … Clearly they don't think it's that important." A State Department spokesman did not provide a comment on the fate of the cyber office. Painter's deputy, Michele Markoff, is also an experienced cyber diplomat. When MC reached her by phone, she declined to comment on her status. "If she leaves as well," Healey said, "it might take State years to rebuild."

Cyber policy experts urged Tillerson not to eliminate State's dedicated cyber mission. Doing so "would mean the United States would be the only major country without a lead diplomat to discuss cyber norms and trying to reduce the ever-escalating cyberattacks we see around the world," Healey said. The U.S. was the first country to create a high-level cyber diplomat role, and since then dozens of other countries have followed suit. "It is not just a shame if the U.S. were to surrender that leadership, but would mean the future internet will have more Russian and Chinese characteristics."

Turtleneck

Geronte





Posts

: 24271


Join date

: 2014-04-22


Location

: tswill.com



Trump's Foreign Policy: The Conservatives' Report Card
Conservatives must also wonder what happened to the "conservative" foreign policy they were promised in the campaign. The administration certified this month that Iran was complying with the 2015 nuclear deal; according to the Institute for Science and International Security, it isn't fully. We were supposed to support our allies in Syria fighting both the Islamic State and Assad; we ditched them. We were supposed to get serious about the threat from Russia. In Hamburg this month, Trump again showed how eager he was to oblige his man-crush in the Kremlin, this time at the expense of Israel.

But the deeper flaw of Trump's foreign policy isn't psychological. It's philosophical. The Trump administration is the first to make an open break with the anti-isolationist postwar consensus of Harry Truman, Arthur Vandenberg and Dean Acheson.

"The world is not a 'global community' but an arena where nations, nongovernmental actors and businesses engage and compete for advantage," McMaster and Gary Cohn, the director of the National Economic Council, wrote in a recent Wall Street Journal op-ed. Mark this as the shift from internationalism to transactionalism; from a values-based foreign policy rooted in Alexis de Tocqueville's notion of "self-interest, rightly understood" to an approach that might be called neo-Maguirism, after "Jerry Maguire." To wit: "Show me the money!"
https://www.nytimes.com/2017/07/21/opinion/trumps-foreign-policy-the-conservatives-report-card.html

Turtleneck

Geronte





Posts

: 24271


Join date

: 2014-04-22


Location

: tswill.com



State Department dysfunction reaches new highs

We've written recently about widespread concerns in the foreign policy community — both within and outside the State Department — over the management, direction and role of the State Department under former oil company chief executive Rex Tillerson. The combination of unfilled political slots, insular leadership, failure to defend the department's budget, and a fundamental misunderstanding of the role of democracy and values in our foreign relations have made this the worst-run and least-effective State Department in recent memory — yes, worse than the Obama years, my conservative friends.

Now the amateurism and arrogance has reached constitutional dimensions. On the day President Trump grudgingly and without public ceremony signs Russia sanctions legislation, State has managed to undermine the impression we are serious about curbing Russian behavior.
https://www.washingtonpost.com/blogs/right-turn/wp/2017/08/02/state-department-dysfunction-reaches-new-highs/?utm_term=.1533281b2de7

Turtleneck

Geronte





Posts

: 24271


Join date

: 2014-04-22


Location

: tswill.com




GRR Spartan

Geronte





Posts

: 6102


Join date

: 2014-04-25



WASHINGTON — Several times a week the State Department sends a greeting to a foreign country on the occasion of its national day. By tradition, the salutations have been written by low-level diplomats and routinely approved by their superiors.

But not anymore.

Now the messages go through Secretary of State Rex W. Tillerson's office, where his top assistants insist on vetting them, and where they often sit for weeks before coming back with extensive editing changes, according to several department officials. To these officials, it is a classic case of micromanagement — and emblematic of the way Mr. Tillerson has approached running the State Department.

Introduced by President Trump as a "world-class player" when he nominated him, Mr. Tillerson had never worked in government. But as the chief executive of Exxon Mobil, he brought to the State Department the kind of managerial experience shared by predecessors like George P. Shultz, who had been president of Bechtel, the giant engineering company, and George Marshall, a five-star Army general once described by Winston Churchill as "the organizer of victory" in World War II.

Even skeptics of Mr. Tillerson's foreign policy credentials thought the State Department, an agency of 75,000 employees, could use some of the management skills he had picked up as the head of a major corporation. Mr. Tillerson was supposed to know that leaders of large organizations should quickly pick a trusted team, focus on big issues, delegate small ones and ask for help from staff members when needed.

He has done none of those things, his critics contend.

Instead, he has failed to nominate anyone to most of the department's 38 highest-ranking jobs, leaving many critical departments without direction, while working with a few personal aides reviewing many of the ways the department has operated for decades rather than developing a coherent foreign policy.
https://www.nytimes.com/2017/08/06/us/politics/rex-tillerson-state-department.html?smid=tw-nytimes&smtyp=cur

Turtleneck

Geronte





Posts

: 24271


Join date

: 2014-04-22


Location

: tswill.com




Turtleneck

Geronte





Posts

: 24271


Join date

: 2014-04-22


Location

: tswill.com



Mr. Tillerson has sharply pared down the number of briefings he receives from senior diplomats as well as the number of people who normally travel with the secretary of state. As a result, Mr. Tillerson has had repeated gaffes in foreign capitals. He is also wildly unpopular in the State Department, and the president is rumored to be eager to replace him.
The focus of this article is actually the buyouts offered to current staff. Tillerson, without any history of serving in such a capacity, would be wise not to not pare down briefing and keep a robust staff in place.
https://www.nytimes.com/2017/11/10/us/politics/state-department-buyouts.html?_r=0

Turtleneck

Geronte





Posts

: 24271


Join date

: 2014-04-22


Location

: tswill.com



But Trump is going to end abortion

GRR Spartan

Geronte





Posts

: 6102


Join date

: 2014-04-25



Page 2 of 2 •

1, 2
---
Permissions in this forum:
You
cannot
reply to topics in this forum